Ziemeļu kauss 2010 - ENG
2nd stage of Latvian cup
April 11, Carnikava district, Gauja
Results
Split times
Graphs
Organisers
Latvian Orienteering Federation
BJC "Laimīte", OK "Kāpa", IK "Māra 9".
Head official: Tamāra Kosmačeva t.mob. +37129104320, tamara.k@gusts.lv
Results: Kārlis Osis e-pasts: lvkaos@inbox.lv .
Course setting: Indulis Peilāns +37129494087
Head start official: Andrejs Vīķis
Registration, secretary: Aija Zaula, Diāna Kronberga
Supported by
Carnikava district Council
The department of education, culture and sport of Riga Council
Date and place
April 11, railway st. Gauja, Carnikava district, marked from highway Rīga – Tallina, turn to st. Gauja
1st start 11.00 in pre-set order
Competition programme
10.00-10.45 arrival, registration
11.00 1st start
14.00 prize giving ceremony
Courses
S(Female), V(Male) 8*,10*( marked course) 12, 14, 16, 18, 20,
S, V 21Elite, 21A, 21B, 35, 40, 45, 50, 55, 60, 65, 70, 75
OPEN- without age limitations – a course for beginners
S8	  1.5km 7KP		 V8	  1.5km 7KP
S10	  1.5km 7KP		 V10	  1.5km 7KP
S12	  2.4km 8KP		 V12	  3.4km 12KP
S14	  3.4km 12KP		V14	  4.3km 13KP
S16	  4.3km 13KP		V16	  7.5km 19KP
S18	  6.0km 16KP		V18	  9.0km 22KP
S20	  6.6km 18KP		V20	  10.1km 22KP
S21A	  5.1km 15KP		V21A	10.1km 22KP
S21E	  8.4km 18KP		V21E	15.7km 37KP
S21B	  4.3km 13KP		V21B	6.9km 14KP
S35	  5.1km 15KP		V35	  9.0km 22KP
S40	  5.1km 15KP		V40	  8.4km 18.KP
S45	  4.9km 11KP		V45	  7.5km 19KP
S50	  4.9km 11KP		V50	  6.6km 18KP
S55	  4.6km 13KP		V55	  6.6km 18KP
S60	  4.6km 13KP		V60	  6.0km 16KP
S65	  4.0km 11KP		V65	  5.1km 15KP
S70	  4.0km 11KP		V70	  4.6km 13KP
S75	  4.0km 11KP 		V75	  4.0km 11KP

Terrain and map
Map is remade in 2010. Part of the map is a new area. The map was made with a help of Metrum laser scan materials. The map is made by Indulis Peilāns. Scale 1:10 000. Good runability pine forest in seaside nature park with an interesting and detailed dune relief. Overall terrain is technically detailed and interesting for orienteering. The map is waterproof, courses and legends are printed on the map.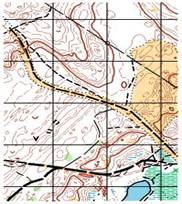 Before competitions Garezeru terrain is CLOSED (Map 771)
Start
Start interval – 2 minutes.
-2min. before start participant must register, showing his emit card number to the official and receive extra legends
-1min. before start participant takes place next to competition maps. Participants are responsible to take the right map
At starting minute participants goes in to the course
Punching
Emit electronic system. Emit rent fee 0.50 Ls
Registration and participation fees
Up to 5.04.2010., 24:00
by sending name, class, team, emit number to luksevics@gmail.com
S, V - 8, 10 – 2.00 LVL.
S, V - 12, 14, 16, 18, 20, 60, 65, 70 - 3.00 LVL.
S, V - 21E, 21A, 21B, 35, 40, 45, 50, 55 – 4.50 LVL.
After 5.04. registration only allowed to vacant position with 50% markup! Online registration will be seen as guarantee for participation fee. Participation fee can be paid on competition day
Requisites
IK "MĀRA-9", reg. Nr. 40002124273, 24 O.Vācieša street, Carnikava
AS Swedbank, kods HABA LV22, LV40HABA0551015519297
Prize giving ceremony
Each class 1.-3.place winners get prizes and youth classes also recieve diplomas. Open group prizes will be delivered after lottery principle.
Special rules
Participants are responsible for their health. Parents or trainers are responsible for children.
Service during competition
Drinking water at finish, WC, buffet
Accommodation
Carnikava special boarding school (principal Ingrīda Krūkle 29529776)
Information
Tamāra Kosmačeva
E-pasts tamara.k@gusts.lv
Tel. +371 29104320